Basic Cane Making Class - Sept 26, 2020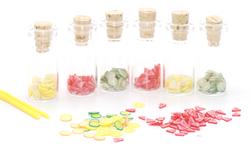 SKU: class15
Want to learn how to make canes? Join me for a full day of cane making fun! All the clay and supplies will be included in your kit. You can make your canes in any scale! We will concentrate on basic cane making and I will show you step by step how to make these delicious looking fruits. You will also get a booklet for a reference to use later, plus a video link after the class is over within a week.
This class will be held on September 26, 2020 8am-5pm Mountain time.
All you will need is a Craft Clay Machine. Easily purchases at Micheals or on Amazon and a toaster oven or your large oven.