1:12 Wonky Lady Bug Cake Class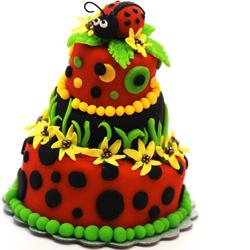 SKU: class02
Class date: April 25, 2020
10 am - 6 pm EST
This class will teach you how to work with clay! Learn tips and tricks on using Polymer Clay. All supplies are included.  
Plus extras goodies will be included so you can keep going and making and designing and creating...
I know we can't sit together and learn in the same room, but this is the next best thing!
I'll mail you a class in a box, then a designated time will be emailed to you for class. If you can join us for the class online then fantastic, if you can't a link will be emailed to you to view the entire class at your leisure... Over and over and over again if that strikes your fancy. Those that were able to attend will still receive a link after the class is through to have a video online to refer to for as long as you want!
All tools and step by step color directions are included in your kits. The only thing you will need for class will be a work surface, X-Acto blade, tweezers and a toaster oven or your kitchen oven.
*Craft Clay Machine is needed for this class!
One can easily be ordered on Amazon or Michaels.