1:12 Checkerboard Cake kit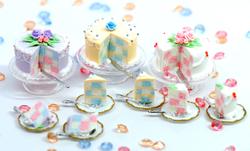 SKU: cakekit01
Ever wanted to make your own cakes and learn the art of checkerboard cakes in miniature? Here's your chance! This is a complete kit right down to the liquid Scupley! Very detailed directions on how to build a sliceable checkerboard cake with lots of high quality color photo's included.
I do recommend getting the 1:12 Star tip that is not included.
1:12 Star Tip
Included in kit:
~ 5 colors of Polymer clay to build several cakes
~ magic cake mix
~ set of complete metal cake cutters
~ frosting kit to decorate with tiny needles
~ no hole beads
~ 2 sample roses and rose buds ~ and directions to make your own
~ a 6" metal ruler
~ a fabulous Poly Blade as well
~ pick tool
~ 2 forks and a butterknife
~ glass cake plate
~ leaf press mold
~ Liquid Sculpey
You will need a pasta roller for clay, cooker oven, tacky glue and a X-Acto blade.